Please be advised: The Playground is closed for maintenance until further notice. Thank you for your cooperation.

Reminder: Taconic Hills Campus is closed to the public during the hours of Summer Instruction. Summer Instruction hours are 730am-1230pm, from July 11 to August 11. Thank you for your cooperation.





In an effort to better Taconic Hills Central School District, we would like you to complete an anonymous community survey. All questions are optional to answer. All feedback is appreciated. Please click the link below to complete the survey:
https://forms.gle/WT5RmSjbVuwE4iNS7


High School Yearbooks are here! Already purchased yearbooks can be picked up now through Friday 830am-2pm in the HS Office. If you haven't purchased a yearbook yet, you still can! Bring $50 (cash or check made out to "THHS Yearbook") to Mr. Atwood in order to purchase one. Please email Mr. Atwood at
datwood@taconichills.k12.ny.us
with any questions.

Graduation and Moving Up Ceremonies are as follows: Pre-Kindergarten: Wednesday, June 22, 9am, PAC Amphitheater Kindergarten: Thursday, June 23, 9am, PAC Amphitheater Sixth Grade: Tuesday, June 21, 1pm, PAC Amphitheater Seventh & Eighth Grade: Thursday, June 23, 930am, PAC Senior Class of 2022: Friday, June 24, 6pm, Feature Football Field


Middle School Yearbooks for Sale! Bring in $43 (Cash or Check) to Mrs. Semp. Checks should be made out to THCSD. Get them before they're gone!!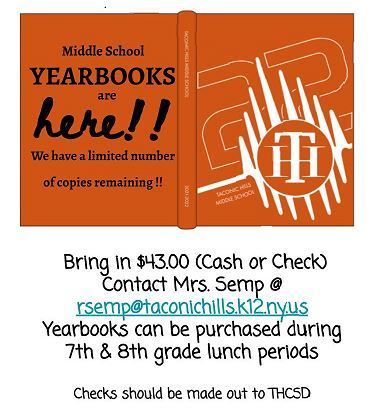 Reminder: The District will be closed on Monday, June 20, in observance of Juneteenth.


Please be advised: The last day of 4PM after school buses for the 2021-22 school year will be Tuesday, June 14, 2022. Thank you for your cooperation.



ATTENTION: Wednesday, June 22, 2022 will be a half day for students. There will be no lunch. Dismissal will be as follows: Elementary: 11:12am Jr/Sr High: 11:15am Busses to leave campus at 11:30am Thank you.

The 2022 Spring Athletics Banquet is tomorrow, June 1, 2022 at 6:30pm in the PAC. We will be honoring our JV and Varsity athletes for their hard work and dedication to their respective sport.

National Honor Society will be hosting a cornhole tournament on May 21st, at 11 AM, right here at Taconic Hills. All teams are guaranteed at least 2 games, and the winners will receive a homemade cornhole set made by an NHS student. The rain date for the event is the following day, May 22nd Join us for a day of play and fun! Community members, teachers, students, families and all! Help NHS raise money for community projects! Pay at entry: Per team - $10 Spectators - $2/person $5/family of 3 or more