2019 Spring Sports Awards
2019 Spring Athletic Awards
Highlights of the season:
-Amelia Canetto set new school records in the 100m, 200m and 400m. Clare Howard set a new record in the 400 m and pentathlon. Trevor New set a new record in the long jump.
-Our Baseball, Tennis team, and Softball team advanced to sectional play. Baseball made it to sectionals for the first time since 2012.
-Our unified basketball team finished their third season. This team is best example of sportsmanship and support of one's teammates. Ariel Near's hard worked paid off . She was able to reach one of her goals and made two baskets this season.
-The following teams are Scholar-Athlete Teams.
Tennis, Girls Track & Field, and Varsity Softball
-Our Clay Shooting Team finished 1st in their league. 11 out of 35 team members finished in the top 100 in NY State.
Angela Webster, Athletic Director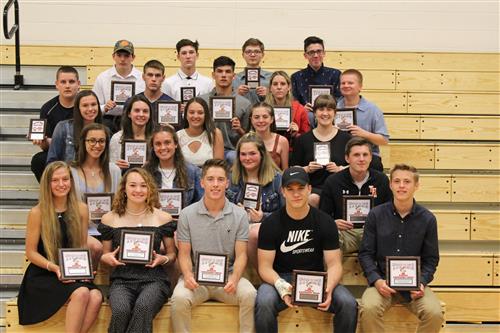 2019 Spring Athletic Award Recipients
First row(Left to Right): Delana Bonci, Amelia Canetto, Kolby Clegg, Donavan Mier, Dylan Foutch
Second row: Clare Howard, Lily Russo, Jackie Jensen, Trevor New
Third row: Emily Mottoshiski, Brooke McComb, Kyra Shetsky, Skylar Waterhouse, Meagan Conway
Fourth row: Justin Westfall, Zach Weaver, Devon Charron, Andrea Snyder, Hunter Gardner
Fifth row: Logan Philips, Aspen Krzeminski, Izac Jennings, Chris Russell
Missing: Morgan Hoose